DESIGN | SUPPLY | INSTALL
Hepworth & Wood Modern Walk-In Wardrobe
Hepworth & Wood Classic Wardrobes
Pieve Interior's Bespoke Fitted Bedrooms Paisley
Pieve Interiors are experts in fitted bedrooms in Paisley, providing bespoke bedroom solutions according to requirement. At the heart of this, we understand that bedrooms are deeply personal spaces, and also much more than just a place for sleep. We believe your bedroom has a lot of potential, and our bespoke bedroom design service will transform your space into a practical yet beautifully designed room that's tailored to your needs. Whatever style you want to achieve, when it comes to bedroom design, we have an eye for making the best use of space and finding the best possible solutions that work for you.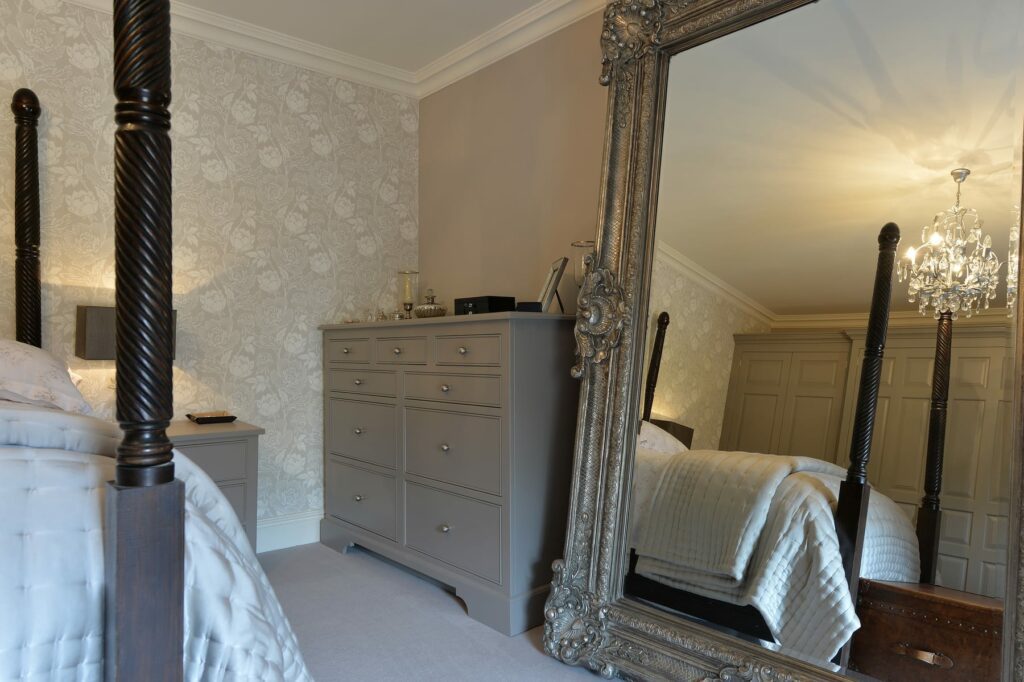 Bespoke Bedroom Furniture Solutions
Say goodbye to low-quality flat-pack furniture and create a seamless finish with our made to measure fitted bedrooms in Paisley. Whether you are looking for bespoke hand-painted furniture, or else fitted bedroom styles that are slightly more price-conscious, we have the solution for you. Ideal for angled ceilings, eaves, and awkward layouts, our luxury bedroom furniture is made-to-measure and can be configured to suit each and every specification. From a UK based manufacturer all our fitted bedroom furniture is engineered to a high standard, guaranteeing a beautiful look and long-lasting finish.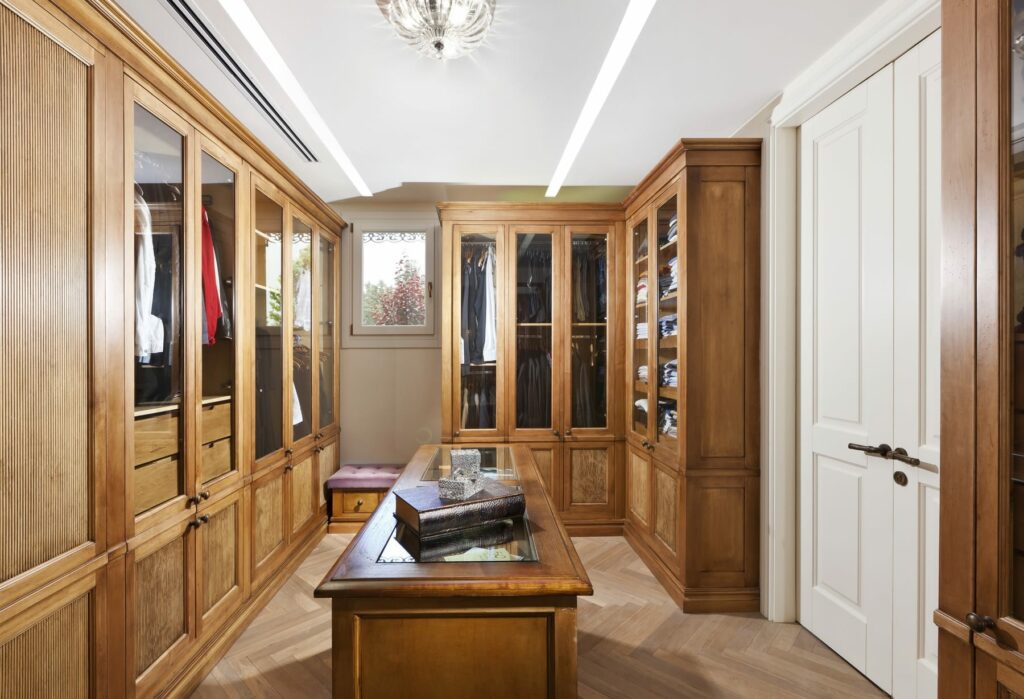 Bedroom Wardrobe Design
Storage is key to achieving and maintaining a clean and clutter free bedroom space, and this includes planning the perfect wardrobe layout. As such, at Pieve Interiors in Paisley we will discuss whether you require single or double hanging space, how many shelves or drawers are required, as well wardrobe accessories like tie racks, jewellery trays, fold down hangers, and shoe racks. We offer a variety of wardrobe finishes including wood, high gloss, matt, linen laminate, bronze wood effect, and more. And to enhance the bedroom look and ambience you want to achieve we have a variety of innovative lighting options in many colours, styles, and finishes.
Supply-only or Fitted Bedrooms in Paisley
Much like our bathrooms and kitchens, we can provide the essential pieces of the puzzle on a supply-only basis, or else you can take advantage of our full installation service for fitted bedrooms in Paisley and the surrounding area. We have a competitively priced team of experienced bedroom fitters, who will take care of everything required, so you don't have to. This includes all services ranging from installing your new fitted furniture, flooring, decorating, and any electrical work- ultimately achieving a seamless and beautiful bedroom space for you to enjoy.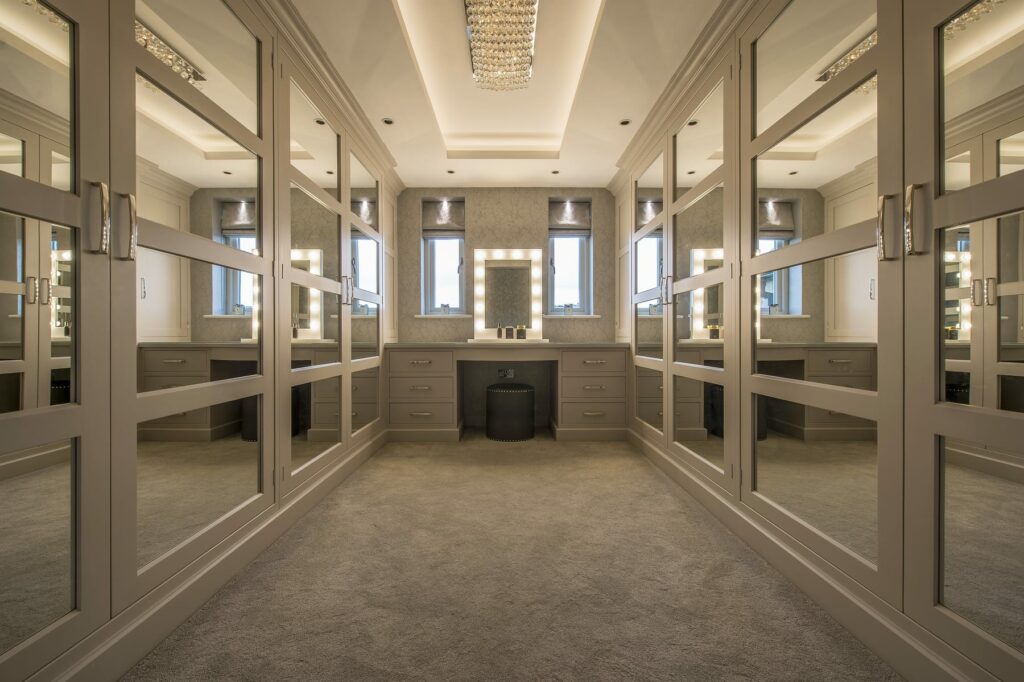 Visit Our Paisley Fitted Bedrooms Showroom Today
Much like our bathrooms and kitchens, we can provide the Our team at Pieve Interiors is committed to delivering the perfect bedroom for your individual taste and needs. If you're unsure about anything, from budget planning through to choosing suitable finishing touches, we are happy to provide our expert opinion. Our bedroom prices start from £5,000 for a fully fitted bedroom. Please contact us with any questions, or else book now to visit our Paisley fitted bedroom showroom and enjoy our free expert bedroom design service.
Paisley Bedroom Showroom
The best way to establish if we are the right kitchen, bedroom, or bathroom design service for you is by visiting us, and we would love to welcome you into our stunning Paisley interior design showroom! Here we can discuss your aspirations for your new project and start to bring ideas together. You can also gain first-hand experience of our full furniture and appliance ranges, which includes a wide choice of colours, styles and finishes.
Opening Hours
Monday: Friday: 10am – 5pm
Saturday: 10am – 4pm
Sunday: Closed
Pieve Interiors Service Areas
Paisley Design Showroom Amenities
Our Paisley design showroom is easy to find in Paisley town centre, with plenty of free parking available behind our building. We are a family-friendly showroom and easily accessible for prams and wheelchairs- though please do call ahead of your visit should you require any resistance. Attendance is by appointment only so we can guarantee our full attention in discussing your project. Please bring architect/ professional plans with you to your first meeting, or in the event that you don't have these we will gladly come to your home so we can measure up on your behalf.